New Year's Eve Dinner in Budapest – December 31
New Year's Eve Dinner cruises in Budapest are the most sought after events in our calendar, as they provide a one-and-only chance to welcome the New Year in the magic lights of the city over the magnificent river Danube.
Book your place for a special NYE cruise with Dinner and live entertainment, but hurry up, tickets are selling out like hot cakes!
4-course Gala Dinner (plus a midnight dinner with a traditional Hungarian dish), unlimited drinks, live gypsy music, folk dance show with fun and party all night long and much more.
This cruise is suitable for groups with shared seating at tables.
You can now reserve your place for the New Year's Eve dinner & party cruise by paying a deposit of €70 (approx. 1/3 of the full price).
The NYE Gala Concert and Party offers a smart, sophisticated way to enjoy the magic of New Year's Eve, as you will be served a 5-course Gala Dinner, followed by the two hour New Year's Eve Gala Concert and Show with classical music, ballet, and even folk music.
The event also includes an after midnight party with an open bar (wines, beers, soft drinks), and 2 traditional Hungarian NYE meals.
The NYE Gala Concert and Party will take place in the biggest hall of the magnificent Danube Palace, right in the city centre.
Tickets are almost sold out, so hurry up and secure your place now.
Celebrate the new year on an unforgettable retro party cruise, including buffet style dinner, unlimited drink package and live DJ. Not confirmed for 2019 yet.
Enjoy an a la carte dinner cruise in Budapest on the river Danube from 7 pm on 31 December, on the beautiful Legenda ship.
Live music, candle lit dinner and delicious meals will make this cruise even more memorable.
Swing right into the New Year on a Swing & Jazz NYE Party in the Budapest Balna Panorama Hall.
Enjoy the classic hits in a modern place in Budapest and dance till dawn.
Tickets with Dinner: TBC
Must see events on 30 December
The traditional and renowned Music-Wine Gala Concert of the 100 Member Gypsy Orchestra is one of the best ways to say goodbye to the old year in a fantastic mood. The concert can also be topped up with a delicious dinner.
New Year Day's Dinner in Budapest – January 1
Why not welcome the New Year of 2020 in exactly the same way as you said your fairwell to the old year? That is on a wonderful Budapest Dinner Cruise on the Danube with either a la carte or buffet style dinner with live music.
The leisurely and romantic dinner cruise is 2.5 hours on the Danube, with a served pre-paid 4-course A la Carte dinner for €70.65 per person.
This high-end dinner cruise is one of the most loved ones by the guests, so this is a perfect choice to start the new year with.
2 hour cruise on the river Danube with live bar Piano music, 4 course dinner from 6 pm and from 9 pm.
Have a happy and relaxed start for a cheerful New Year, especially if you upgrade your ticket with the unlimited drink package option.
With city central boarding & arrival, this option is ideal for thos who partied until dawn.
Tickets with Dinner are starting from only €63.
This 2 hour cruise on the river Danube includes Buffet Dinner, music by an award winning Hungarian Gypsy trio and 2 drinks.
This dinner cruise is reported to be the highlight of many tourists' Budapest visit, therefore book your tickets in advance as this program often run full house.
Tickets with Dinner are starting from only €54.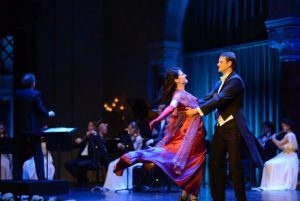 This Gala Concert with an optional Dinner Cruise is an elegant way to enjoy all the magic of New Year's Day with a wide repertoire of musical styles such as gypsy music, operetta, classical music and ballet featuring a special Hungarian folk instrument (hammer dulcimel).